CBV – brake valve for Danfoss H1B series hydraulic motors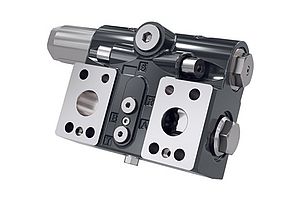 Danfoss introduces the new CBV brake valve for the H1B tilt block hydraulic motor family. This extends the use of these hydraulic motors to open circuit systems.
CBV increases hydraulic system performance by improving system efficiency and features low pressure loss, integrated safety valves, while simplifying system integration and reducing time to market.
It is ideal for many systems:
wheeled and crawler excavators
tracked and mobile cranes
drilling and pipe handling applications
rotating attachments (e.g. rotary cultivator)
MP1 M 28/32 non-regulating hydraulic motors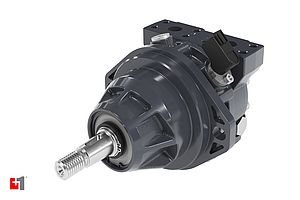 Danfoss expands its family of non-regulated hydraulic motors of the MP1 M series with hydraulic motors with a geometric volume of 28 and 32 cc.
These hydraulic motors have been optimized with regard to durability, installation dimensions, variety of designs and low assembly costs. Main advantages:
low weight – 7.8 kg
compact size – small installation dimensions
reduction of fuel consumption – 5% higher efficiency
maximum working pressure of 350 bar
high axial and radial load on the shaft
MP1M 28/32 hydraulic motors are ideal for many applications - drive of small mobile machines, drive of vibration of vibrating rollers, various work functions, drive of cooling propeller, rotation of crane and others.
DANFOSS – H1B hydromotors in a closed hydraulic circuit
The H1 series hydraulic motors are control axial piston hydraulic motors with an inclined block. They are designed for use in both closed and open hydraulic circuits.
The H1 series hydraulic motors have a large maximum / minimum geometric volume ratio of up to 5: 1 and high output speeds. And they also have the option of setting zero geometric volume.
The ability to achieve zero geometric volume in conjunction with a maximum tilt angle of 32 ° opens up further possibilities for improving machine parameters:
Wheel assistant for starting machines with high weights (eg harvesters), or anti-skid system - electronic shutter.
Multi-engine applications requiring optimized for work and transport modes (eg wheel loader, agricultural sprayer) - disconnection of some hydraulic motors (their inclination to zero position) is used to achieve the maximum required machine speed.
Improved machine climbability (eg wheeled vibratory roller) thanks to precise anti-slip control
The anti-skid function reduces soil damage, increases traction control, reduces tire wear and improves machine controllability for the operator.
H1 hydraulic motors can be designed:
Clamping flange according to SAE standard
clamping flange - cartridge design (not available for 210 cm3 and 250 cm3)
Clamping flange according to DIN standard
radial high-pressure hydraulic connections
axial high-pressure hydraulic connections
with flushing slider and low-pressure safety flushing valve
with a complete set of controls and regulators that meet the requirements of a wide range of applications.
with speed sensor with direction of rotation resolution
Parameters:
maximum working pressure drop 450 bar
range of maximum speed at full geometric volume from 2200 to 3600 rpm speed (depending on geometric volume)
range of maximum speeds at a minimum geometric volume from 3650 to 5900 rpm (depending on the geometric volume)
maximum speed range at zero geometric volume from 4050 to 6600 rpm (depending on geometric volume)
corner power up to 684 kW
geometric volume 60 cm3 to 250 cm3
Development plans include additional geometric volumes.
DANFOSS - Reverse Displacement Motor (RDM)
The Reverse Dispalcement Motor (RDM) is designed for mobile applications. RDM is a regulating two-position reversible axial piston hydraulic motor for an open hydraulic circuit. It is primarily intended for the drive of the radiator propeller - fan drive.
The integrated proportional radiating valve ensures a smooth change of direction of rotation - reversal of the cooling propeller. The reversal can be performed while driving and does not require any additional external hydraulic valves or distributors or control pressure supply.
Features and benefits:
By eliminating the external control valve:

increases the efficiency of the entire cooling system
no external hydraulic control unit is required
reduces the number of required components - hoses, valves, screwing, which also saves costs and installation time
reduce space requirements in the engine compartment of the machine
Higher cooling system efficiency
Ideal for use with Danfoss Series 45 hydrogenerators with electronic proportional control and PLUS + 1® control electronics with fan drive SW

5 different geometric volumes
High reliability - RDM uses existing and proven Danfoss L&K hydraulic motor technology
High efficiency - 9-piston technology with an inclined plate with an angle of 18 °
Proportional control valve in 12 VDC or 24 VDC design
Fail safe - without control signal the motor is tilted to the maximum geometric volume (full cooling capacity)
Muffled reversal and restart
Short and compact - small installation dimensions
Shaft options with dust protection
Integrated system pressure protection - safety and anti-cavitation valve
High load-bearing bearings to withstand high axial forces from the propeller
This hydraulic motor can be kept at zero geometric volume - the possibility of further energy savings or faster heating of the motor after starting
Versions with speed sensor
MP1 M - non-regulating axial piston hydraulic motors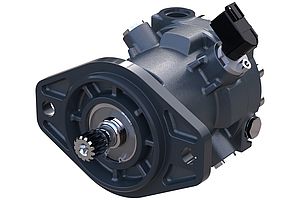 MP1 M is a new generation of non-regulating axial piston hydraulic motors. The MP1 hydraulic motor uses proven technology and is designed for use in mobile devices.
These hydraulic motors have been optimized for durability, installation dimensions, various designs and low assembly costs.
MP1 hydraulic motors:
are offered in two geometric volumes (20 and 24 cm3) with the same built-in dimensions
are designed to work in both closed and open circuits
are available in different designs - mounting flange SAE A; SAE B, cartridges, various types of shafts, etc.
Fan Drive System - MP1 hydraulic motors can be used to drive propellers in machine cooling systems, offering great versatility and flexibility.
Features and Benefits
Easy to install - lightweight aluminum housing, smallest length on the market compared to competitors, small build-up volume
Easy integration - compact size, cartridge design for easy integration into the fan housing, along with other Danfoss products (MP1P, DDC20, S45, PLUS + 1) provides a system solution
High efficiency - fuel economy and higher productivity allow the use of a smaller hydraulic motor with the same or better machine performance
High pressure design - maximum working pressure of 350 bar gives the possibility to reduce the entire Fan Drive system, providing greater durability and longer life
Wide choice of versions - PLUS + 1 compatible speed sensor; flushing valve; anti-cavitation and safety valves; various clamping flange and shaft configurations; special dust seal for Fan Drive applications
https://assets.danfoss.com/documents/DOC334419739713/DOC334419739713.pdf
Axial Piston Motors with Fixed and Variable Displacement
H1 Bent Axis Variable Motor
For middle and high drive power
nominal size 80; 110 cm³/U
pressures to 480 bar
broad electrical controller program
For middle and high drive power
nominal size 42 to 130 cm³/U
pressures to 480 bar
For middle and high drive power
nominal size 55 cm³/U
pressures to 480 bar
hydraulic and electrical controller program
S51 Bent Axis Variable Motor
For middle and high drive power
nominal size 60 to 250 cm³/U
pressures to 480 bar
hydraulic and electrical controller program
For middle drive power
nominal size 25; 35 and 44 cm³/U
pressures to 400 bar
For middle drive power
nominal size 46 cm³/U
pressures to 350 bar
hydraulic controller
For middle drive power
nominal size 30; 35; 38;45 cm³/U
pressures to 350 bar
hydraulic controller
Peter Lauko
Tel.: +421 37 7777 955
Mobile: +421 903 282 644
Fax: +421 37 7777 967
Email:lp@bibus.sk
Jaroslav Tvrdoň
Tel.: +421 37 7777 954
Mobile: +421 914 336 525
Fax: +421 37 7777 967
Email: tvr@bibus.sk
Vladimír Begáň
Tel.: +421 37 7777 954
Mobile: +421 914 336 527
Fax: +421 37 7777 967
Email:vbe@bibus.sk