Measuring connection - minimess (sockets, adapters and connectors)
Measuring hoses
Manometers (analogue, digital)
Portable Measuring electronic devices, including the required sensors (pressure, temperature, speed, flow rate)
Device for monitoring the fluid level (monitoring pollution, the state of the working fluid)
Pipe and hose clamps (PP, PA, aluminum, stainless steel ...)
Level Sensors
Temperature Sensors and Switches
flowmeters
Ball valves (2, 3 and 4-way)
Flow control and check valves
Filling and venting necks
Hydraulic screwing
SAE flange blocks ...
Temperature sensor with platinum measuring element PT100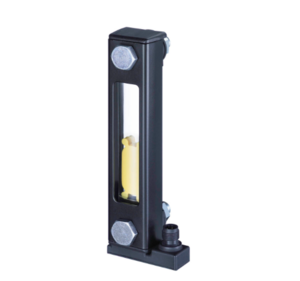 The temperature sensor with platinum measuring element PT100 from STAUFF enables the measurement of oil temperature much faster and more accurately.
These compact sensors respond to temperature fluctuations in the hydraulic tank without the usual delays. The regulated amount of heat, the corresponding required power of the cooler and its running time, as well as the energy required for this, are significantly reduced. As a result, the hydraulic medium suffers less heat aging.
All this protects our environment and your wallet!
The sensor is located in place of the lower hollow screw used for conventional optical and optical-electrical level indicators. Therefore, when replacing your old temperature sensor with a new one, it is usually not necessary to drill additional holes in your hydraulic tank. Alternatively, however, a mounting kit is also available.
New STAUFF Connect online catalog
Hydraulic pipe fittings and accessories now on more than 350 pages of the new catalog.
Our long-term partner STAUFF presents a new digital product catalog STAUFF Connect.
In the current version 02/2021, more than 400 new items have been added to individual product groups.
Product poster with complete overview of pipe and hose clamps according to DIN 3015
BIBUS SK, sro as a long-term representation of Walter Stauffenberg GmbH & Co. KG KG in Slovakia brings you a clear poster of STAUFF clips according to DIN 3015.
Get a complete overview of common components for:
Standard series according to DIN 3015
Heavy series according to DIN 3015
Double series according to DIN 3015
The poster in DIN A1 format is available in several languages and can be sent to you in printed form on request.
Extensive testing has made it possible to increase the maximum operating pressure of the BBV-2 series valves (DN20 and DN25 nominal sizes)
Learn more:
Change brand: Voswinkel turns into Stauff
The Stauff Group is consolidating its position as "Single-Source".
By introducing its own pipe fitting program "Stauff Connect" and taking over Voswinkel GmbH in April 2015, the Stauff Group has developed succesively for a true "Full-Liner" for hydraulic line products. To strengthen the perception of the company as a "Single Source", the company's management made the decision to incorporate the Voswinkel product brand under the Stauff brand.
Voswinkel's quick-release couplings and hose fittings are an essential component of the Stauff product portfolio. This includes a total of more than 40,000 components and hydraulic accessories from its own production, for use in mechanical engineering and equipment maintenance.
In the future, all products will be available under the Stauff brand.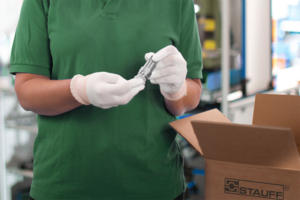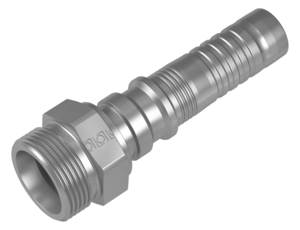 Process reliability in production and application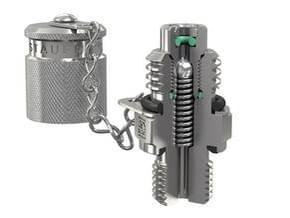 Remarkably easy and safe connection of measuring and display devices
In addition to flow, pressure is without doubt the most relevant parameter and measuring factor in hydraulics. Measuring system pressure is therefore the most important and most frequently used method for monitoring, controlling and preventive service and maintenance of hydraulically operated machines and systems. It is the prerequisite for their economical operation.
Test couplings from the STAUFF Test range are already planned during the design phase of a machine and installed in suitable positions in the hydraulic system at the factory. They allow machine operators and maintenance personnel to easily and safely connect analogue and digital measuring and display devices for the temporary or continuous testing of system pressure and other factors. If required, they also allow venting of the system as well as collecting representative fluid samples, e.g. for analysing the degree of contamination of the fluid. This type of connection requires no tools and can also be carried out during operation under full system pressure up to 630 bar (depending on the type of coupling).
The check valve (ball or poppet valve) integrated into the test coupling opens only after connection of the hydraulic tester with suitable adapters or hoses. This guarantees safe sealing of the connection without leakages and danger of fluids escaping from the system.
STAUFF test couplings are not crimped after insertion of the internal valve components and seals but rather closed with a threaded nipple in a fully automated process. Not only does this design contribute to maximum precision and process reliability in production, it also secures the proper functioning of the couplings. The vibration protection, which prevents a self-acting detachment of the protective metal cap through vibrations in the system, is another competitive advantage.
For the finishing of the test coupling range in carbon steel, STAUFF relies on the zinc/nickel surface coating which has proven successful for many years. It provides more than 720 hours of resistance against red rust/base metal corrosion in the salt spray chamber in line with DIN EN ISO 9227. The chromium(VI)-free coating therefore exceeds the highest requirements with regard to resistance and durability and also complies with the valid ELV, REACH and RoHS guidelines.
Versions in stainless steel V2A and V4A are generally available from stock. Alternative materials and surfaces are available on request.
Portable Cutting Ring Assembly Machine SPR-PRC-H
With the battery-operated STAUFF Press Assembly Machine, STAUFF provides an ergonomically designed, light-weight and at the same time robust device for the assembly of cutting rings on metric tube ends. It offers the best technical compromise between maximum flexibility, economic efficiency and a high level of process reliability with considerable reduction of time and cost for the assembly of cutting ring fittings. Short tool change and setup times make it possible to carry out the assembly of medium and even small quantities of cutting ring fittings. With the rechargeable battery being able to typically cover more than 200 assembly cycles per charge, the machine is also suitable for mass processing and production. Make sure to visit www.stauff.com/en/portable/video to get a first impression of the simple handling and operation of the assembly machine as well as its high performance.

Frequently updated and complete catalogue information on STAUFF and VOSWINKEL line components and
hydraulic accessories from 10 product groups and in both English and German language – wherever you and
your colleagues are – are provided with the free STAUFF Catalogue App for mobile devices, i.e. smartphones
or tablets, which is now available through the usual channels:
For further information on the functions and features of the app, please see the enclosed leaflet.
As a matter of course, all product catalogue are still available in the STAUFF Online Catalogue Center at
www.stauff.com/catalogues, which can be used to view, download or request printed or digital copies on
CROM or USB memory stick – free of charge and without any further obligation.

Viliam Moravec
Tel.: +421 37 7777 953
Mobile: +421 903 720 733
Fax: +421 37 7777 968
Email:vmo@bibus.sk
Jaroslav Tvrdoň
Tel.: +421 37 7777 954
Mobile: +421 914 336 525
Fax: +421 37 7777 967
Email: tvr@bibus.sk
Vladimír Begáň
Tel.: +421 37 7777 954
Mobile: +421 914 336 527
Fax: +421 37 7777 967
Email:vbe@bibus.sk